When Stockhouse Editorial first introduced our metals & mining investor audience to Richmond Minerals Inc. (RMD) (TSX-V:RMD, OTC:RMDFF, Forum) back in April, we took a deep dive into the Company's international and historical presence in mineral exploration, specifically its Central European Oberzeiring Polymetallic Project.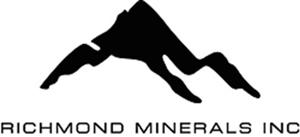 RMD has continued to make a strong and successful push into awaking its sleeping giant polymetallic project near the town of Oberzeiring in the traditionally resource-rich province of Styria in Austria. The Company and its President & CEO, Franz Kozich-Koschitzky, had always known that Austria had a rich history of mining, with some of the world's largest silver mines dating back to the early middle ages. With historically verifiable grades of up to 114 g/t gold and 4,000 g/t silver, the Oberzeiring Polymetallic Project is indeed ready to be reawakened.

Half a world away, Richmond Minerals' other development-stage exploration focus is occurring at its Ridley Lake Gold Project, located in the heart of north-central Ontario's Swayze Greenstone Belt, 120 kilometres west-southwest of the historic mining city of Timmins. Covering an eight kilometer section of the Ridout Shear Zone (the RSZ) and consisting of a contiguous unpatented single cell and boundary mining claims, Richmond owns a 100% interest in the project.

And this…is bigtime gold country. Recent notable gold discoveries nearby Ridley Lake and associated with the RSZ include the Trelawney Cote Lake deposit – acquired by Iamgold Corp. (TSX.IMG) in April 2012 for $585 million – located on strike 48 kilometres to the east, and the Probe Mines Borden Lake gold discovery – acquired by Goldcorp Inc. for $526 million in January 2015 (now owned and operated by Newmont Goldcorp).


In the News

Fast-forward to December 11, 2020 and RMD's announcement that Phase IV diamond drilling will resume at the Ridley Lake Gold Project. The Company says it is planning on drilling up to 3,000 metres in this phase to test Aguara West Extension IP targets identified during winter 2018 geophysical surveying. Highlights of previous drilling in the Aguara Central Zone include 33 m of 1.26 g/t gold in hole RS-16-20, and 136 m of 0.31 g/t gold in hole RS-17-30.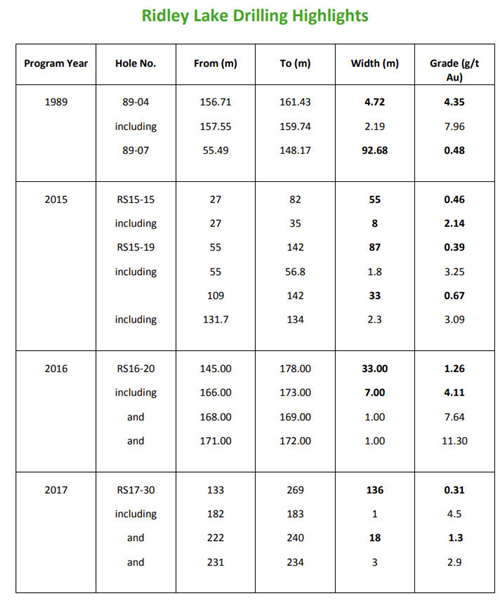 *Multiple strong and deep magnetic/IP anomalies remain untested 600 metres west of and on strike with the Aguara zone. These anomalies will be the primary target of the next round of drilling at the Ridley Lake Gold Project in 2021.


Investor Update

To finance its summer exploration program, Richmond Minerals advanced a non-brokered private placement (PP) in May of up to $800,000. The Company followed that up with another PP consisting of the sale of 3,583,331 flow-through Units at a price of C$0.06 per FT Unit for aggregate gross proceeds of CDN$215,000 in the fall of 2020.


The Deep Dive Inside the Ridley Lake Gold Project

Early exploration work on the property dates back to early 1930's prospecting. At the time two significant quartz vein systems – the Cyril Knight and the Aguara Showings – trending east-west were discovered in the central and the north-central property area. The veins were exposed on surface for lengths up to 245 metres, with widths
varying between 1 and 3 metres. Gold assays from these veins were highly variable, with grades ranging from trace values up to 23 g/t gold @ 0.7 ounces per ton.

Between 1932 and 1982, minor exploration work was carried out on the property. In 1982, Richmond Minerals Inc. staked claims covering the quartz vein showing areas and completed geophysical surveys, mapping, and trenching between 1983 and 1988. A 13-hole diamond drill program in 1989 discovered wide zones of gold mineralization in the Aguara Central Zone. However with the onset of a civil litigation in 1990, exploration worked was halted until 2014 when the litigation was resolved in Richmond's favour. Exploration work resumed in 2015 with geophysical surveying and Phase II diamond drilling.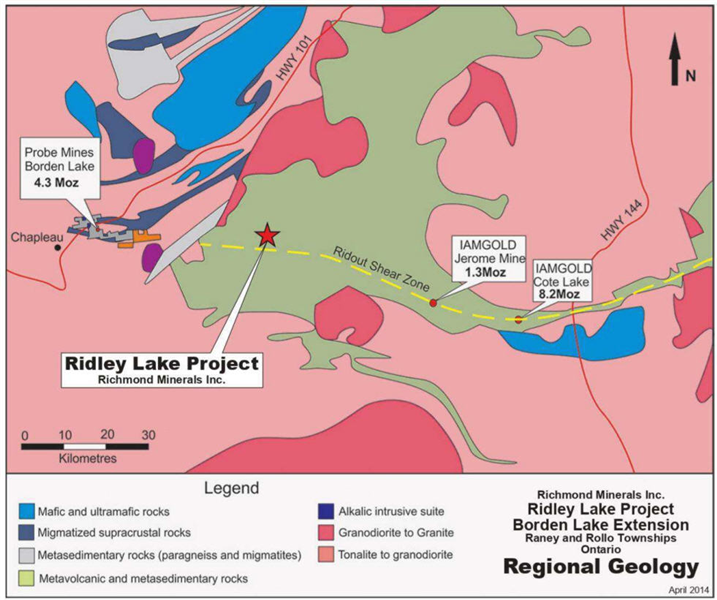 From the CEO

Stockhouse Editorial reached out to Company CEO and Franz Kozich-Koschitzky, a nearly 30-year mining industry veteran with focus on venture capital business in junior mining companies trading on the Toronto Stock Exchange and the TSX Venture Exchange, to give investors a 2021 update and a look forward on both the Oberzeiring Polymetallic and Ridley Lake Gold Projects:

"We are very excited about the resumption of drilling at Ridley Lake given that zones drilled to date in the Aguara Central zone have yielded exceptionally wide gold intersections, sometimes in excess of 100 m. The Aguara West targets appear to have similar geophysical characteristics to the Aguara Central zone, so it is possible these wide central zone intersections could be extended along strike much further to the west. The central zone also remains open to depth given that all deep holes drilled to date have yielded wide gold intersections. We anticipate the drilling results for the current round of diamond drilling in the Aguara West Zone to be available in mid February 2021".

For more information, visit richmondminerals.com


FULL DISCLOSURE: This is a paid article produced by Stockhouse Publishing.